Another sweet addition to your day…a Lady Belgium CANDY BUFFET!
Something else to entertain and appease your guests. Imagine a table of 8 – 10 different candies displayed in attractive clear glass containers, jars, and bowls. Guests can snack or fill up their own mini candy bags to take home as favors. What fun!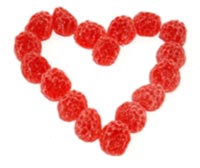 Step right up to the Candy Buffet
A Sweet Addition to a wonderful day!

Use the scoop – choose what you like
Leave some for others; be polite

As you enjoy your bag of treats
Please remember – Love is SWEET!
Your Candy Buffet includes your choice of 4 Classic Candies and 4 Premium Candies, as well as a big clear glass apple bucket filled with assorted wrapped old-fashioned candies and lollipops.
Classic Candy Choices:
Gourmet Jelly Beans, assorted flavors
Jordan Almonds, pastel
Life Saver Mints, individually wrapped
Jolly Ranchers, individually wrapped
Gummy Bears
Tootsie Rolls, individually wrapped
Gourmet Mints
Gumballs
Sour Gummy Worms
Twizzlers - red vine, individually wrapped
Now & Later Taffies, individually wrapped
Bullseyes, individually wrapped
Werther's Butterscotches, individually wrapped
Dry Roasted Peanuts
Premium Candy Choices:
Hershey's Kisses, individually wrapped
Hershey's Mini Candy Bars, individually wrapped
Reese's Cups, individually wrapped
Chocolate Covered Malt Balls
M&M's, Plain
M&M's, Peanut
Chocolate Covered Raisins
Chocolate Covered Peanuts
The Candy Buffet is sure to delight guests both young and old! It's the perfect companion to a Lady Belgium Chocolate Fountain, for just $539 in addition to your Chocolate Fountain package. (Candy Buffet with Chocolate Fountain rental requires a $400 total deposit. Special offer available only in combination with All-Inclusive Package chocolate fountain rental.)
Or rent the Candy Buffet alone for just $799! A $250 deposit is required to order the Candy Buffet.
To rent the Candy Buffet or add this package to your Lady Belgium Chocolate Fountain package, please print the contract below. Fill it out and mail it with your Chocolate Fountain contract.
Website design and artwork ©Lady Belgium Chocolate Fountains, 2023.
All rights reserved. No part of this website may be copied or reproduced.